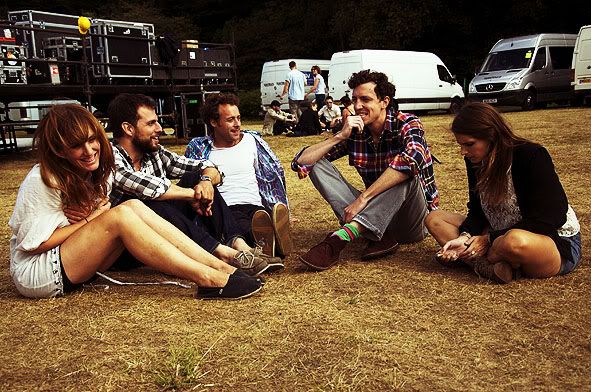 "A bee kept trying to get into my mouth in the first song.... so that was a little disconcerting", proclaims Luke Temple of Brooklyn quintet, Here We Go Magic as he takes a large gulp of water. It's the height of the summer and as the sun drenches the Suffolk countryside to the hum of guitar strings, all of Latitude is reveling in the quintessential festival atmosphere.

In the dressing rooms behind the main stage, the band are relaxing after playing a crowd-pleasing set to the music hungry fans. But momentary sit-downs are rare and few for this hard-working band, who the very next day were jetting-off to Chicago to play at Pitchfork festival after a whirlwind tour of Europe. "Yep, it's just TOUR TOUR TOUR TOUR, at the moment", the band reveal with a laugh.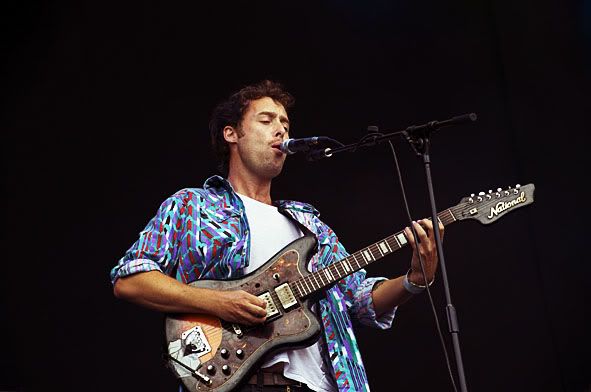 With world-wide domination under their belts thanks to an old-school drive of pulling in the fans through a multitude of incredible live gigs; it's not bad considering this indie collective began little over a year ago. Originally, Here We Go Magic was the 4-track project of vocalist and guitarist Luke Temple, before his gang of talented friends entered the equation.
"I had been playing with Pete (Hale, drums), just kind of jamming. Then all of a sudden some shows came around, so I had to put a band together", reminiscences Luke. " So we decided to turn what we were doing into Here We Go Magic". Shortly after that, the musical duo were joined by Michael Bloch on guitar and Kristina Lieberson on the keyboard. Finding a suitable bass player however, took a bit of time; "We had a different bass player on board originally, but that didn't work out. Jen meanwhile had seen a few of our shows and was probably our only fan in the world. Then one night, we ran into her at a party and she was like 'If you you ever wanna jam-and I'm not asking to be in the band-but just if you ever want to get together and play, I play bass'. So we got her to come round the next day and that was it! The band formed and we've been on tour ever since".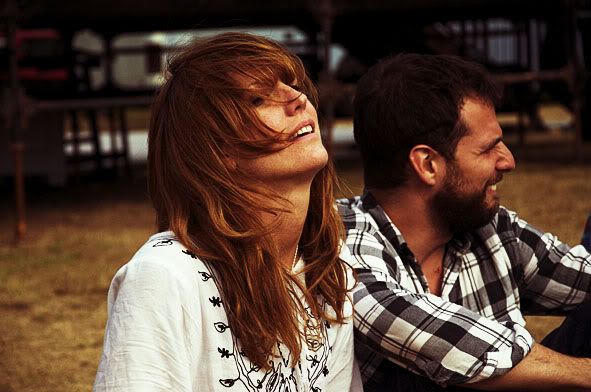 Despite their hectic schedule on the road, the band have some how managed to produce a follow-up to the self-titled Here We Go Magic, Luke's debut which has been touted as a "Stream-of-conscious lyrics and swirls of psychedelic, lo-fi noise" . The latest offering meanwhile, the obscurely named Pigeons, is a beautiful collection of hypnotic tracks fused with dense yet sweet harmonies all rolled together with an ethereal blend of heightened repetition.
"We were really into Krautrock when we were making this album", Luke explains, " We listen a lot to these German bands from the 60's. That's a sort of running theme for us." Indeed, this heavy influence from the experimental music scene from the last century is evident in their latest repertoire. With Krautrock submerging the music industry at a time where iconic bands strived living on the road and lived for playing to live audiences, it appears the movement not only inspires Here We Go Magic musically, but their rock'n'roll work ethic too.
So with two epic albums to their name and having threaded the main stage of some of the world's biggest music festivals, what's next for this band of talented friends? "More tours!", they exclaim. Begs the question really doesn't it, do Here We Go Magic ever sleep?